The powder room is as essential as the rest of your house as it is an approachable restroom for you and especially your guest. The ambiance and decoration of this room must be welcoming and gorgeous.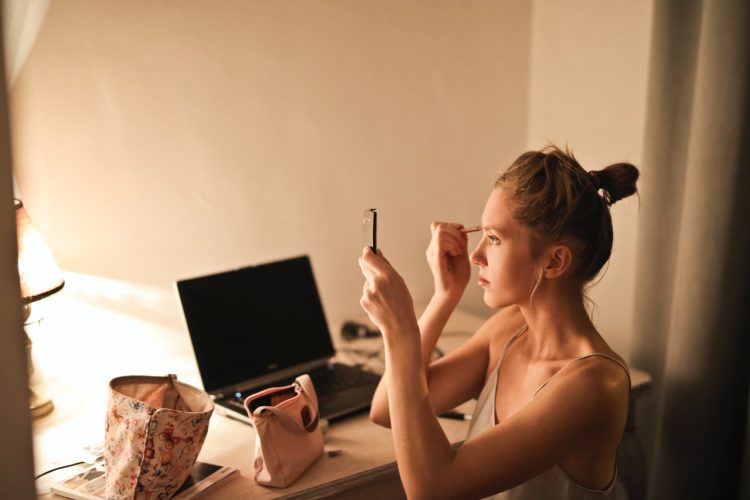 Everyone makes sure that their restroom fittings are lavish and comfortable. But, they generally forget about how to set up the mood of the room. Make your visitor's head turn by investing in impressive decor that will modify your powder room to the next level. So let's discuss some gorgeous pictures to give your powder room a new look.
#1 Marvelous Wall Paintings
Wall painting is one of the most prominent decors of the powder room; it makes your blank wall look fabulous. There are so many options available to choose from trending flower paintings for the powder room. 
The size of the flower painting must be selected according to the wall and furniture ratio. For example, you must go for a wall canvas covering sixty to seventy percent of your wall. If you are hanging a wall painting over a piece of furniture, it must be two-thirds or three-fourths of the table.
On the mirror and washbasin sidewall, you can place four square canvas frames. It may have plants, something abstract, or quotes on them. If you have the space, hang a statement canvas on the room's accent wall.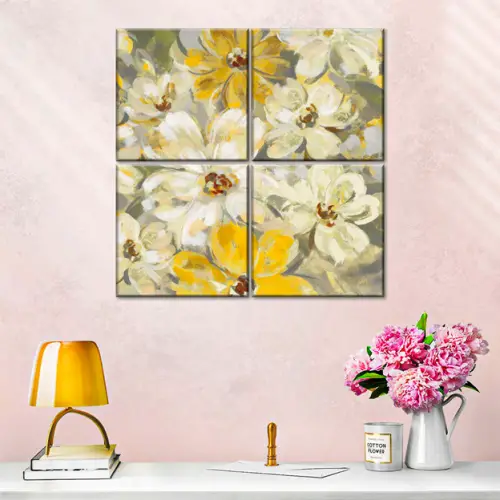 #2 Play With Lights
Lights can be categorized as functional decor because sufficient light is so crucial for any restroom. Ditch the standard light system and install a minimalistic hanging ceiling light. 
It creates a center in your space and looks very lavish. Particular traditional wall sconces with candles or electric lights look very classic. The detailing becomes very precise and elegant with beautiful lighting options.
#3 Decorative Mirrors
Drop your standard conventional mirror and go for a great mirror. Mirrors reflect light and give us an illusion of a bigger space. Give it perfect lighting, and you can opt for carved mirrors, a framed mirrors with beautiful borders.
Wooden carved frames or frames with self-design look very graceful. Everyone has a glance at your mirror, and it must be a delightful experience.
#4 Wondrous Wallpapers
You can save the effort of changing the color palette by implementing removable wallpapers on your walls. For example, you can try wallpapers on all your powder room walls. You can also create an accent wall and make it prominent with decor.
Wallpapers are available in all shades and patterns, from vibrant to soothing. You can hang the canvas on them. It can be removed easily, and it gives a premium touch to your powder room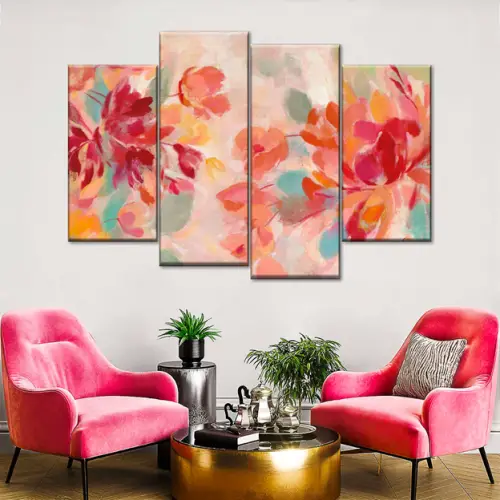 #5 Layering the Floor
Never forget the floor; contrasting patterned tiles look eye-catching on the floor. Suppose you can change the flooring, and layer up the floor. Then, you can throw patterned, vibrant rugs or install wall-to-wall carpet.
You can choose dust-free, anti-skid rugs and carpets. The cushioning increases your comfort, and your eyes rest upon something so elegant feels good.
#6 A bit of Greenery
Increase the dose of freshness by placing some plants here and there in your powder room. For example, you can place small ceramic pots on the accessory organizer shelf near the washbasin and mirror areas. If you have a small organizer closet, you can put plants over it.
Go for vibrant ceramic pots with exotic patterns or golden or silver colors. The plants instantly add warmness and make your powder room even more welcoming.
#7 Practical Organizers
If you want to save your space, you can install space-saving floating shelves for keeping your essentials. They can be mounted on walls, have beautiful vintage borders, or be kept simple. They are available in different materials. 
If your powder room is spacious enough, place a wooden organizer for keeping your essentials. Then, place a lamp, candle holder, or plants over it—this functional decor and detailing look gorgeous.
Vintage-style hooks also look very intriguing. You can hang the accessories on it. The logical yet beautiful decor looks comely.
#8 Pretty Wall Hangings
You can have wonderful wall hangings to give a bohemian touch to your powder room. A macrame looks so warm and exciting. You can also go for plant hangings, organizer hangings, and hangings that have some words on them.
Final Words
Irrespective of your powder room being small or large, go for space-saving decor. Don't make the room feel congested by overloading everything. Instead, invest in wall decor, keep pretty organizers and play with colors.
The decoration of such a unique place as a powder room says a lot about your personality. Rethink your space, palette, and utility; you can transform your powder room into a gorgeous place.