Disclaimer: There are affiliate links in this post. At no cost to you, I get commissions for purchases made through links in this post.
A wet room, if you've never come across the term before, is a bathroom where the showering area is incorporated fully into the overall design of the room and is completely waterproofed.
If you are living in a small apartment or house and spaces are on the small side but thinking of transforming an area of the living space into a spa-like wet room, then this guide will provide the best wet room ideas for small spaces. 
Save Space
Saving money on your wet room costs comes in many shapes and sizes.
Using space efficiently by Installing a shower area is a good idea for example, as this will open up space and does not have the extra costs of hours of plumbing and materials. No need for any bathtub or a shower tray, just a simple small drain close to the wall will be sufficient. 
Tips here for choosing the best shower curtains to match!
If you have a tall ceiling then you can take advantage of this by hanging a modern big shower head. There are plenty of contemporary showerheads to choose from with many shapes and sizes.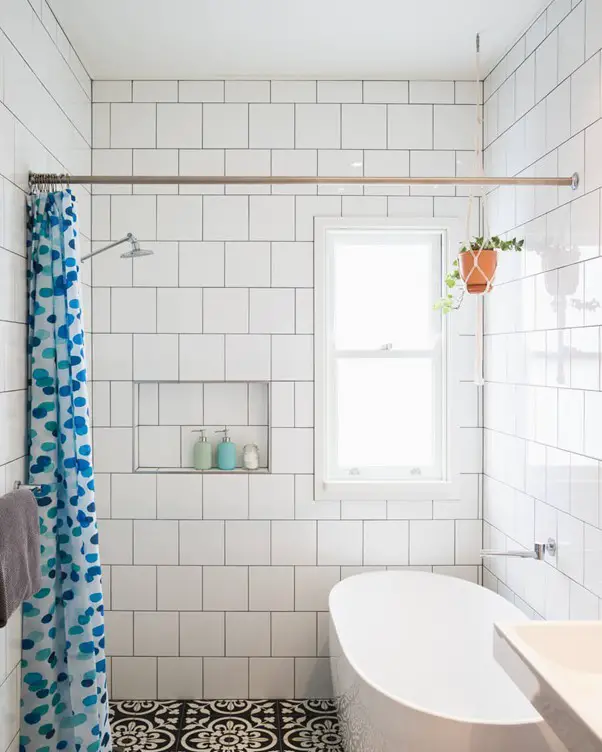 Quality Tiles
When fitting a wet room, be sure to select the correct tiles. As floor and wall tiles are of a higher quality which performs well in drainage and waterproofing. 
Use larger format tiles for quicker installation and a more modern look. They are available in many types of materials and textures, which are also anti-slip resistant that helps with the overall safety of the bathroom.
Also, note that when installing the floor tiles they need to slant towards the drain so the water waste does not accumulate in different corners of the bathroom.  
Create That Spa feeling
Just because you're working with a small space doesn't mean that you can't produce that luxury spa feeling. Take advantage of the fact that wet room tiles have a high level of thermal conductivity which retains heat and thus enabling you to install underfloor heating systems.
Underfloor heating systems are also more energy-efficient than standard central heating systems which in total helps with energy costs. If you want extra comfort when taking a shower, try adding shower massage jets to your wet room. With many styles to choose from and at affordable prices, you can transform your ordinary bathroom into a stylish wet room.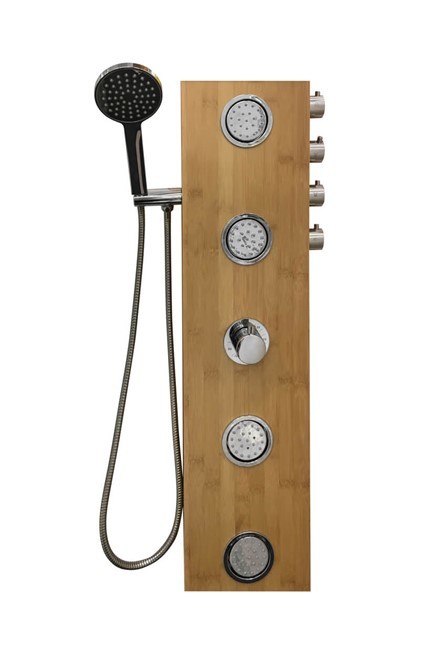 Extra Accessories
Transform your wet room into a personal oasis with air plants. As you shower, they secretly drink from the droplets of steam and spray. They're available in various shapes and sizes. Place them in a special air plant pot, or hang them off the showerhead for a tropical effect.
Dry yourself off after having that well earned relaxing shower with a warm towel by Installing a heated towel rail for an added luxurious feeling.
If you want an extra bit of cover rather than showering in an open space, you can always opt for a shower glass screen. There are many frameless glass style shower screens available and they still offer a sense of spaciousness as they are transparent whilst also preventing water from entering other sides of the wet room.
Depending on the size of your wet room, you may want to add a wall hung toilet and washbasin. Ideally, position them at the opposite end of the room to the shower so they stay dry and usable at all times. Also, consider how the door opens to your wet room. As space is a minimum you will want to prevent any door from opening inwards and rather opt for sliding doors as this will enable more space.
Don't worry if your wet room doesn't have windows, you can always install a skylight for ventilation. Skylights are more attractive nowadays in bathrooms as they provide a touch of elegance. If a skylight isn't possible then make sure to install a good quality fan extractor for all that steam.
Other Things To Consider
Make sure that you have adequate ventilation solutions to prevent condensation and dampness, Install the floor tiles on a slight tilt so the water exits towards the drainage system. If you do install a heated handrail, ensure that it is fitted away from any potential splashes and also the lighting in the wet room is waterproofed.