Every homeowner knows understands the significance of keeping their plumbing systems in order and functioning perfectly. Residential plumbers play a crucial role in making that happen for the homeowners, and when anyone thinks of this profession, they usually think about the pipes and systems in people's home. What about the plumbing systems in buildings, offices, or any kinds of industrial settings? Are those less important.
Quite on the contrary. All industrial operations require the entire production process to stay active at all times, and any kinds of issues that lead to downtime are, well, harmful for the business. So, industrial plumbing is just as, if not more, important as the residential one, and you shouldn't take it for granted. Nor should you try to tamper around the systems alone, as hiring professionals is much more beneficial. Here is the explanation why hiring professionals for any kind of a setting is a must.
The Importance of Industrial Plumbing and Why You Need a Professional Plumber
Have you ever stopped to consider why it is that industrial plumbing is so important, and why you have to make sure that everything is running smoothly in your industrial setting at all times? And, have you ever tried to figure out why it is that you actually need a professional plumber to handle all of those needs, repairs, installations and similar stuff? Whatever the answer, now's the time for you to figure out both of those things.
Starting with making it clear why industrial plumbing is so important in the first place. First and foremost, by investing in these systems, by having professionals maintaining them perfectly, and by fixing any issues that arise in no time, you'll reduce equipment downtime. Plumbing issues slow down your production process, taking a toll on your entire business and making you less efficient, which is why you need to resolve those as soon as they appear, as well as ensure the proper functioning of the systems at all times.
Did you know that your plumbing has a direct impact on the energy you're using in your industrial system? When waste management is functioning perfectly, there's less need for any further maintenance support, as well as for extensive cleaning and excessive use of water. Your pipe network should, thus, be regularly checked and maintained, so as to function efficiently and reduce the overall use of energy.
I've mentioned there will be less need for using water in your industrial setting when the plumbing systems are functioning perfectly. Conserving water should definitely be one of your main goals. And, businesses that hire professional plumbers, and you can find out what kinds of services you can get from those experts at https://www.national1plumbing.com.au/ or similar places, do so because they don't want to leave anything up to chance and because they understand the importance of water conservation.
As you could have guessed it all alone already, properly functioning plumbing systems will increase the overall productivity of your staff. A working waste management system will reduce the average time spent at the toilet, for one thing. Thus, hiring professionals to maintain those systems for you will have a huge impact on your overall productivity, which is quite a big deal in any industry.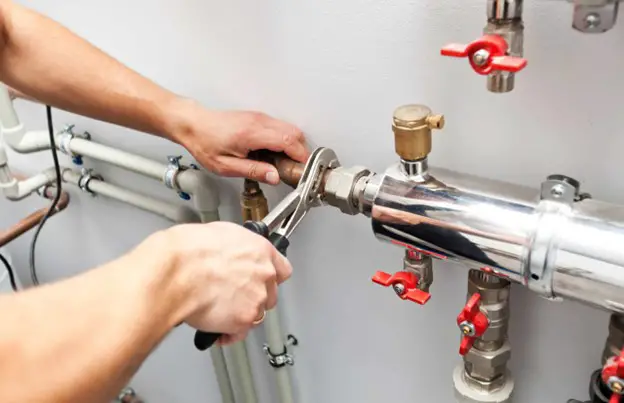 Speaking of hiring those professionals, are you now thinking you can actually do all of this alone? Assuming that maintaining the plumbing isn't that difficult and that you're skilled enough to fix any issues on your own? Quite a wrong assumption, especially when dealing with industrial plumbing. Even a simple pipe leak at home can cause serious issues you won't be able to fix alone.
Now, imagine a larger scale plumbing system and the same issues. Not only will there be higher risks for you and your entire organization, but the issues will definitely be more difficult to fix, which is why hiring professionals is the best thing to do. Do you know where tampering around with these systems on your own will probably take you? Down the rabbit hole of further plumbing problems that will wind up making more serious damage and costing more to get repaired.
So, clearly, hiring professional plumbers is always the better idea here. It's the best idea for your residential needs as well, and let alone for industrial ones. Experts that have been working in this industry for a while will have all the necessary skills and the equipment needed to maintain the systems and fix and problems in no time, thus reducing the overall production downtime and increasing your overall productivity.
Industrial Solutions
Wondering how you can find the right industrial plumbing solution for you, that is, the right company? Well, it first depends on what you need. You may need installation, maintenance or repair. And, while installation is not done that often, maintenance will be a regular thing, and if maintenance is done properly, then repairs are not going to be needed that frequently.
At some point, thus, you'll need all of these services. Probably not all at once, though, but it's important for you to keep the big picture in mind and aim for a company that can provide you with the all-round industrial plumbing solution and service. Thus, when aiming at making the choice, the first thing to check is what the companies you're considering can offer you. And, remember, you want to go for one that is capable of providing you with plumbing installation, maintenance and repair as well, since we've made it clear that you'll need all of those services at one point or another.
That's not the only criterion, however. Plenty of companies provide an all-rounded service. Not all of them do it well, however. And, you certainly want one that will do it perfectly.
Finding such an industrial solution, that is, a company that will do any work perfectly, will require you to research various different ones. Checking their experience level, their reputation, as well as their fees will help make the choice. Once you make a choice and find you're happy with it, stick to the professionals you've selected for all your industrial plumbing needs.